Are You Playing The Best Sports Video Game Ever?
On a Personal Note...
Welcome to the first edition of my Games Focus newsletter, I hope you enjoy it!
Games Focus is sent out once a month, and will save you the time and effort of trying to find great games by bringing you a "Game of the Month" review. The newsletter will also have one preview of a hotly anticipated game that's about to be released.
It's been an exciting month in the Wii universe as we begin our approach to Christmas. The price of a Nintendo Wii console dropped by $50 in the US to $199, while in the UK, the Wii now comes bundled together with Wii Sports Resort and the new Wii MotionPlus adapter.
The UK seems to be going crazy with the new Wii bundle, with HMV just announcing some awesome deals by throwing in two of the most popular Wii games for free. Their offer includes all of the following...
Wii Console
original Wii Sports game
new Wii Sports Resort game
Wii MotionPlus adapter
Super Smash Bros
FIFA 10 or Tiger Woods PGA Tour 10
This bundle deal is being offered by HMV and costs only £179.99 for the entire package.

In the US all the best retailers are selling the Wii console for $199 including Best Buy
, Target and Amazon
.


---
Game of the Month
Tiger Woods Wii PGA Tour 10
The original Tiger Woods Wii PGA Tour golf game created a lot of excitement among Wii owners and golf fans when it was announced that the game would be played by using the Wii remote controller as a golf club.
Even though most gamers were disappointed with the final outcome of that first Tiger Woods game on the Wii, every edition of the game since then has been better and better. With the inclusion of the new Wii MotionPlus adapter, Tiger Woods PGA Tour 10 promised to be the best Wii golf game to date. Actually it's better than that, and is really one of the best sports video games of all time.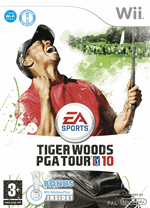 ---


If someone you know would enjoy this magazine, then please feel free to forward this on to them...

If you are that someone, you can get your very own subscription and FREE Wii book by clicking on this link.


---
Game Preview
Spore Hero
Spore Hero makes its highly anticipated appearance on the Wii this month after being such a massive hit on the PC last year.
For those who haven't played Spore before, you control a small creature on a faraway planet. Your job is to evolve into a bigger, stronger creature by completing quests and collecting better body parts. This really is a classic game of survival of the fittest!
One of the most exciting parts of the original game was the creature creator, a tool that allowed the public to create their own creatures, and put them up on the internet for others to look at.
When the Spore creature creator was released as a stand-alone program just prior to the release of the full Spore game, users created 1 million creatures within 6 days of launch. And 100 million user generated creatures were created in less than a year!
---


Thank you for reading this first edition of my newsletter, I hope you enjoyed it. If you would like to give me any feedback, please feel free to drop me a line.

Join me again next month, I promise to have a great action-adventure game reviewed for you. I'm busy playing through it at the moment, and it's a little bit special – I know you'll enjoy it.