EA Sports Grand Slam Tennis Review -
Wii Tennis Just Got a Whole Lot Better!
Grand Slam Tennis is a new tennis video game from EA Sports, a company that already makes a range of awesome sports titles, like Tiger Woods PGA Tour golf, FIFA Soccer, Madden NFL football and the NHL hockey series.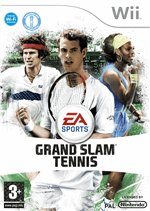 This new tennis title is exclusive to the Wii, and takes full advantage of the Wii remote controller's motion sensors. With the original Wii Sports tennis proving an instant hit with Wii owners, and EA Sports having a reputation for making great sports games, I was very eager to see how well Grand Slam Tennis would perform on its debut.
Game Review Summary
This Game is Perfect For:
Tennis Fans, Sports Video Game Lovers, Anyone Who Loved Wii Sports Tennis


Genre:
Sports


Number of Players:
1-4


Age Rating:
3+


Online:
Yes


FUN Factor:
8.5


Nintendo Wii Explained Score:
8
Game Summary:
EA Sports Grand Slam Tennis is a new tennis game, designed exclusively for the Wii. Using the Wii remote controller (and the new Wii MotionPlus adapter), players hit real forehand, backhand, serve, volley and smash tennis shots to play the game. The game includes a host of past and current tennis superstars like John McEnroe, Bjorn Borg, Pete Sampras, Roger Federer, and the Williams sisters, and is the first tennis video game to include all four Grand Slam tournaments.
What I Loved About This Game
When Wii Sports tennis was first released with the Nintendo Wii a few years back, it quickly became the game that everyone wanted to play. Even with its very limited gameplay, one game on the original Wii Sports tennis was enough to persuade many people to run out and buy a Wii console.
EA Sports' Grand Slam Tennis is a completely new game and I'm sure the plan is to bring out a new edition of the game every year, just like the Tiger Woods PGA Tour Golf, Madden NFL and FIFA Soccer games.
Even though Grand Slam Tennis makes a solid debut with fun gameplay and controls that work well, I can't shake the feeling that the game's producers are holding back a host of features for future releases. It's this lack of features, compared to a sports game like Tiger Woods Wii PGA Tour 10, that stops Grand Slam Tennis from being a really great sports game.


To start out with, tennis is one of those games that's perfect for the Wii remote controller. The small size and light weight of the controller makes it easy to swing around like a tennis racquet, and there's enough variation of shots in the game to stop it becoming repetitive. The fast speed of play against the computer or a good opponent is also enough to make you break into a sweat.
The good news is that Grand Slam Tennis combines all of these components very well. Swinging your Wii remote as you try to hit a winning shot, and breathing heavily at the end of the long and exciting rallies, helps create an immersive sports experience that's really fun.
Grand Slam Tennis' main game mode is called "Grand Slam". As with all sports games these days, Grand Slam mode is the Career Mode. You'll need to create and customise your own tennis player, and try to win all four Grand Slam tournaments against the roster of 23 tennis stars included in the game, and some fictional players too.


You'll begin Grand Slam mode in the character creator tool which is incredibly basic. Gamers who love customising their future superstars to perfection will be sorely disappointed with the tool. The tool only has a few customisation options for choosing your player's face, skin colour, hair style and hair colour, eye colour and facial hair (for male players). Most players will be done in the player creator in about 5 minutes flat.
From the character creator tool you'll move to the Locker Room, where you'll get to choose from an array of branded shirts, shorts, shoes, bandanas, sunglasses, sweatbands and more. Despite the limited number of gameplay modes and customisation options, one thing Grand Slam Tennis does do is include all of the real world sports brands and event sponsors in the game. While some people may feel this is blatant commercialism, I personally think that it gives an authentic feel to the presentation of the Grand Slam tennis tournaments, and is a big part of the immersive experience.
Although most of the sportswear and equipment items in the game are branded by companies like Adidas, Nike, Lacoste, Wilson and Under Armor, there is a twist...
As you play through the game, you'll unlock new items of clothing and new tennis racquets, which will give your player specific ability boosts when you equip them in the Locker Room.


Some of the unlockable tennis racquets will give you hitting boosts like a topspin boost, slice boost, or a flat shot power boost. Unlockable trainers will give you stamina boosts or speed boosts. You're able to go into the Locker Room between matches and change your player's clothes and racquet to take advantage of these ability boosts.
Adding these ability boosts to equipment unlocks brings a clever strategic element to the game. These ability boosts make the Locker Room a fun and necessary place to visit between matches, and you'll need to think carefully about the surface you're playing on, your next opponent and the tennis style you're going to use in the next match, in order to choose the best equipment for the match.
The first tournament you'll play in Grand Slam mode is the Australian Open. The tournament is played on a hard court surface, and if there's one thing Grand Slam Tennis does well, it's to create a real difference in the way that each of the different court surfaces play, whether it's hard court, clay or grass.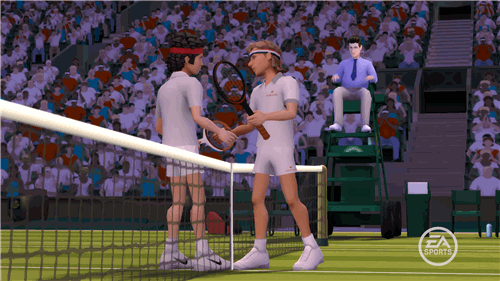 Each Grand Slam tournament starts with an exhibition match against a low-ranked fictional player. This is a warm-up game to get you familiar with the new court surface. Each tournament has a different court surface to the one before, so you'll need the exhibition match to work out the timing of your shots and your tactics on the new surface. Hard courts play fast and true and it's fairly easy to time your shots, while clay courts are slower and mis-timing your shot will cause the ball to drift out of play. Grass courts are fast and suit the serve and volley game well.
The game also has a practice court option, where you can hit an endless number of balls to practice your timing and get to grips with the different shots.
At the beginning of your Grand Slam career you'll be a young, raw player – high on talent but low on actual skill. Regardless of whether you win or lose your exhibition match, you'll progress to a series of challenge matches where you'll be playing to win new skills.
First challenge up is the option to play against a tennis superstar, with the chance of winning one of their skills if you beat them. This could be Martina Navratilova's serve and volley, Serena William's power forehand, or any one of the skills that have made these past and present players the superstars they are.
After the Superstar Challenge you'll have to play an unconventional challenge match like two-players-against-one, King of the Court, drop and lob, or any one of a choice of other "training-drill" type games. Winning these mini challenge games upgrades your skill level and unlockable items in the Locker Room.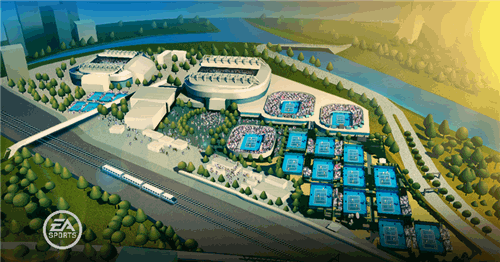 After all the challenges you'll begin the knockout stage of the tournament. Each tournament venue has authentic recreations of Centre Court, as well as their more famous outer courts. As you progress through each tournament you'll move from playing on the outer courts towards Centre Court, with the opportunity to play on Centre Court if you make it through to the final match of the tournament. Having more than one standard court setting adds good variety to the gameplay, and increases the tension and satisfaction of progressing to the next round of each tournament.
Game presentation is generally very good but with one or two low points. The players in the game are not ultra-realistic representations of their real life counterparts, like most of the serious sports games attempt to do; instead the player models have a slightly more cartoon animation style. Don't let this cartoon artwork fool you though, the graphics add some humour to the game (especially when John McEnroe shouts "you cannot be serious") and the playing styles of each of the players are pretty authentic, all the way down to Venus Williams' grunting.
Matches are played using a television broadcast-style presentation. Authentic tournament sponsors' names, logos and equipment are plastered all over the court, and the official tournament logo flashes on the screen between points, just like a real television broadcast. These elements again add to the overall feeling that you're actually playing in these tournaments.


During matches, commentary is provided by Pat Cash, but it's dull and highly repetitive. The commentary feels like an afterthought, and I think that it takes away from the excitement of the match more than it helps it. If EA Sports Grand Slam Tennis is released again next year, then the in-game commentary needs some serious attention.
In addition to Grand Slam mode, the game has a Play Now mode, Party mode and Online mode. Play Now does exactly what it says on the tin and lets you jump straight into a match against the computer or a human opponent. Simply choose which players you want to use and the tennis court you want to play on, and you're good to go.
Party mode is a series of tennis mini-games that you can play with friends. These mini-games are the same as the challenge games that you'll play during the Grand Slam tournament challenge rounds, and can be played by 2, 3, or 4 players. Being shorter than a full tennis match and allowing an odd number of players to play at the same time make them ideal entertainment when you've got a group of friends over.
The game's online mode lets players go online and play against opponents from around the world. Getting online is fairly straight forward and gameplay during matches is smooth. Online game modes are fairly basic with the option to play singles matches, or team up with a friend for a game of doubles. To play in ranked matches for points, you'll need to create an account on the EA Online website, or use an existing account if you've got one already.


Grand Slam Tennis online mode doesn't have the rich online tournament features that come with Tiger Woods PGA Tour 10, but this may well be one of those features being held back for a future edition.
What I Didn't Love About This Game
The biggest issue with EA Sports Grand Slam Tennis is the lack of gameplay modes. Grand Slam mode is the only real gameplay mode, and even then there are only 4 tournaments, with a few matches per tournament. The Superstar ability challenges are a nice idea, and become quite competitive, but the mini-game challenges feel like fillers to flesh out the game a bit.
Grand Slam Tennis is one of the first games to use the new Wii MotionPlus adapter. The MotionPlus adapter makes the Wii remote controller more sensitive to player movements and is designed to improve the performance of the Wii remote.
The Wii MotionPlus adapter was a real game changer for the Tiger Woods Wii PGA Tour 10 game, but it's just way too sensitive in this game. I had real problems on forehand shots, with the game mistaking my backswing for a forehand shot, causing my player to hit at the ball way too early, and losing the point.
Without the Wii MotionPlus adapter the controls work great. Timing of shots is accurate, and it's fairly easy to place your shots in different directions. The game is also supposed to recognise slice and topspin shots but I didn't find that this worked very consistently. Having said that, I didn't find that hitting a slice instead of a top spin shot affected whether I won or lost the point, so I didn't worry about it too much.
As I mentioned earlier, each court surface plays differently and you'll need to work out the exact shot timing on each surface to get them just right. The players also respond to the different court surfaces like they do in real life, like sliding into the ball on the clay courts, and it's pretty cool to see!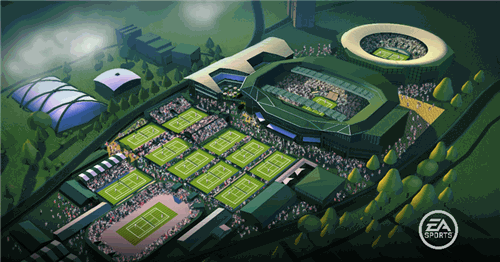 Overall Recommendation
Despite its limited game modes, EA Sports Grand Slam Tennis is a fun game of tennis, with authentic Superstar players who play and act like they do in real life. While it doesn't have all the bells and whistles of some of the more established sports titles, the core tennis gameplay feels like real tennis should - racing heart rate included!
The television broadcast style presentation adds to the authentic tennis experience, and makes you feel just a little more like you're "playing in the majors".
While the character customisation tools in the career mode are very limited and may not impress those players who love to customise their characters down to the smallest detail, the huge variety of unlockable branded tennis apparel and equipment, together with the ability boosts attached to these items add unique strategy to the game that makes you have to think carefully before playing each match.
All-in-all, Grand Slam Tennis makes a worthy debut on the Wii and I would highly recommend it to anybody who loved Wii Sports tennis, to all tennis fans, and anyone who enjoys a good sports video game.


EA Sports Grand Slam Tennis and other great Wii games can all be found in the Games Review section
Nintendo Wii Explained Home