It's My Birthday Review
It's My Birthday is a collection of 22 new and classic children's party games aimed at the 6-12 year old age group. With party invitations, large wall banners, and a birthday crown included in the box, plus customisable party themes and avatars in the game, It's My Birthday prides itself on being the "complete birthday party in a box".
While the game has a few minor flaws, it has a lot more strong points. Parties are easy to set up, and there's a range of options that allow you to use the game for a full-on Wii themed birthday party, or use it as just one of many activities on the day.



This Game is Perfect For:
Children from 5 to 13 years old


Genre:
Children's Entertainment


Number of Players:
1-12 players


Age Rating:
3+


Online:
No


FUN Factor:
9


Nintendo Wii Explained Score:
8
Game Summary:
It's My Birthday comes packaged with a Wii game disc containing 10 customisable party themes for boys and girls, an on-screen character creation tool, and 22 mini-games for up to 12 players. Party invitations, colouring sheets, birthday banners and a birthday crown, for the birthday boy or girl, are also included in the box. There's even a website for downloading extra invitations and colouring sheets so you can use the whole bundle for more than one party.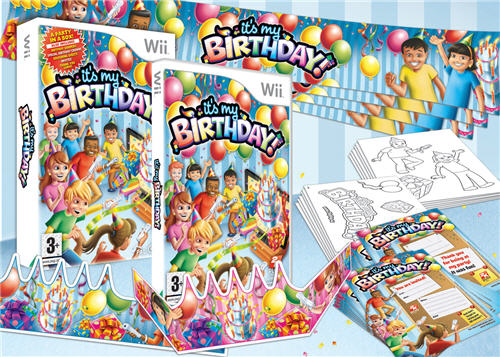 What a complete birthday party in a box looks like
What I Loved About This Game
With previous hits like Carnival Games on the Wii, 2K Games has vast experience creating interactive, engaging video games for children, and they've done it again with It's My Birthday.
Even without the party invitations and other paraphernalia, all 22 games on the disc succeed at creating an immersive experience for small groups of children, while catering to the short attention spans of this junior audience. Each of the mini-games are between 30 seconds and 2 minutes in duration, depending on the ages of the players.
It's My Birthday has many well known party favourites like Sack Race, Pin the Tail on the Donkey, Pinata Blast and Musical Chairs, with the physical activity and space usually required to play these games being replaced by a shake of the Wii remote. All of the games on the disc use the Wii remote controller's motion sensor capability, and most of the games are easy to pick up and play.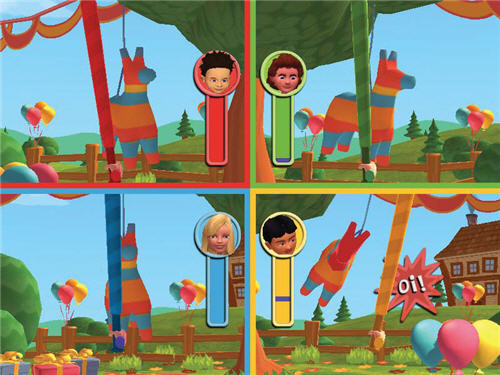 Pinata Blast with 4 players
It's My Birthday has three different modes to choose from, from a fully customised party (complete with customisable characters and outfits), to a quick play mode that lets you jump right into any one of your favourite games. This flexibility gives you the option of using It's My Birthday as your main source of entertainment for your party, or to use the video game as one of a few different activities for the kids to choose from.
Custom Party is the main game mode, and comes with all the trimmings. Custom Party lets you choose a theme for your party, type in the names of all your guests, choose and customise on-screen avatars for each guest, and decorate an on-screen birthday room to match your party's theme.
When choosing Custom Party, I definitely recommend setting it all up before your guests arrive. It takes about 20-30 minutes to set up a complete party for 12 guests, and you can save your settings directly on the Wii. A voice-over provides easy to follow instructions on each of the setup screens so it's pretty easy to step through. When all the guests arrive, you'll simply load up your saved party and you're good to go.
In the party theme selection screen, you'll have 10 party themes to choose from - including pirate, princess, sports, music and army man themes – although these themes don't play a major role in the game. Before playing the first mini-game, you'll see an empty room that fills up with more and more party decorations from your chosen theme after finishing each mini-game.
After all the party games have been played, a karaoke rendition of Happy Birthday plays on-screen, while showing off the fully decorated birthday room.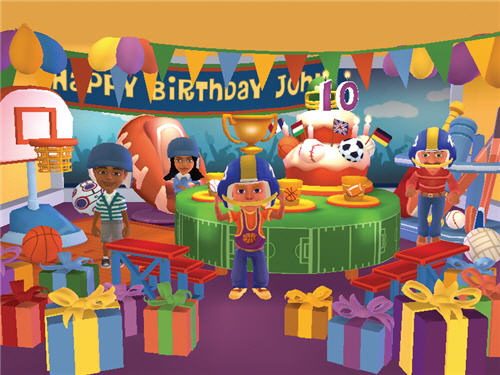 Sports theme birthday room
It's My Birthday supports up to 12 party guests, sharing up to 4 Wii remotes. Each mini-game lets 4 players play against each other at the same time. With more players than Wii remote controllers, party guests will share their Wii remotes with other players at the end of their turn.
While sharing 4 controllers between 12 children sounds reasonable, playing referee during a party isn't always an easy job. While older children might understand the need to share controllers, you'll probably want to ask a few friends to help you coordinate proceedings with younger children.
If you don't own 4 Wii remotes, the game manual suggests asking guests to bring along their own remote controllers. Don't worry if you can't get 4 Wii motes together though, the game will insert a computer controlled player for each missing remote, so the mini-games aren't less fun to play.
Most of the mini-games are easy to pick up and play, and require players to shake the Wii remote, move it up and down, or point it at targets on the screen.
Before each mini-game starts, a voice-over gives basic instructions on how to play the game. Written instructions are also shown on the screen. All of the games have a fun, animated feel to them, and encourage friendly competition between players.
Even though there are 22 mini-games on the disc, the game doesn't include all of them during your party. It's My Birthday chooses a selection of games based partly by the number of guests and the number of Wii remotes that are available. This ensures that all the children at the party get a chance to play without having to wait too long for their turn to come around. A complete Custom Party takes around 45-60 minutes to play through.
The second game mode is Quick Party. Quick Party mode is similar to the Custom Party, but doesn't make use of the avatar customisation tools. Because guests haven't entered their names and customised their on-screen characters, Quick Party lets players join and leave the game whenever they want. This is a great option for younger children who don't always have the concentration to stick around for all the games.
The final game mode is Quick Play. In Quick Play, you don't need to choose a party theme or set up any avatars, you simply choose the mini-game you want to play and start playing right away. Quick Play lets you play mini-games in any order you choose, and you can even replay the same mini-game over and over again.


What I Didn't Love About This Game
While most of the mini-games are easy to play right away, a few of them feel too advanced for younger children. Embarrassingly, I struggled with Puzzle Racer, Candle Ball and Music Mania. Puzzle Racer and Candle Ball required very delicate control of the Wii remote, and Music Mania was so fast that even hard core gamers would struggle to master it.
When setting up your party, the theme icons on the party theme selection screen are almost impossible to read. Instead of squeezing all 10 theme icons onto one screen, these could have been placed over two screens. This would have allowed for bigger icons that are easier to read.
While the game is aimed mainly at 6-12 year olds, it's doubtful whether you could keep 12 older children in front of a TV screen for a full hour without them running around, going wild, so it's worth keeping in mind that for older children, this may be one of a few activities on offer during the day.


Overall Recommendation
Despite having three mini-games that are difficult to play and a party theme set-up screen that's impossible to read, these are not big issues when looking at the entire package. The game is very well presented, and is completely different to anything you'd expect a video game to be.
What It's My Birthday does really well, is provide a collection of mini-games each of which are just the right length for their intended audience, presents them using an engaging, animated style that junior gamers can connect with, and makes them just competitive enough to give young players a sense of achievement after winning a mini-game.
You could even add your own bit of extra excitement by giving out small prizes to the winners of each mini-game. This is guaranteed to keep the little ones coming back for more.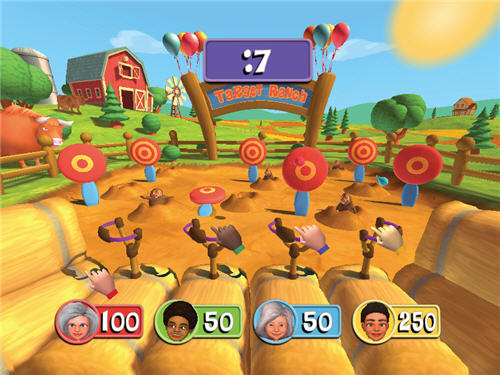 Slingshot Splash Mini-Game
Even though the game is called It's My Birthday, you'll definitely get more use out of it than the once or twice a year birthday parties. Quick Party and Quick Play modes are a great way to keep the kids entertained for a few hours a day during school holidays or when friends come over for play dates. It's a good way for children and parents to spend some time playing together too.
Perhaps a more fitting title for the game would have been "Fun and Games" or "It's a Party", showing that there's more gameplay here than purely birthday parties.
However you use it though, It's My Birthday is one of those games that continues to prove why the Wii is the current king of family entertainment systems.
When you're looking for a good entertainer to work your child's birthday party, then It's My Birthday should be high on your list of options, and it's so much cheaper than clowns or children's entertainers. Add to this, that there's enough gameplay here to keep your children and their friends entertained all year-round, and you have a package that's hard to ignore for anyone with young children.


Your "complete birthday party in a box" comes with all of the following party goodies included...
1 game disc


12 party invitations with thank you cards on the reverse


12 colouring cards


4 large "It's My Birthday" wall banners for hanging


1 paper crown for the special birthday boy or girl (the crown is reversible with one side in pink for girls and the other side in blue for boys)


You can also download more invitations, thank you cards and colouring pages from http://www.2kplay.eu


It's My Birthday is highly recommended for anyone with young children, but you can find more games in the Wii Games section.


Nintendo Wii Explained Home