Need for Speed Nitro Review
Need for Speed Nitro is the first game in the NfS series to be custom built for the Wii, and Wii owning fans of the series will be very pleased to discover that this effort has truly been rewarded.
The difference in the raw driving experience between Nitro and its predecessors is massive and instantly noticeable, and with a no-nonsense arcade street racing experience, NfS Nitro is a truly solid racing title for the Wii.
Game Review Summary
This Game is Perfect For:
Children, Teenagers, Adults, Racing Video Game Fans


Genre:
Racing


Number of Players:
1-4


Age Rating:
7+


Online:
No


FUN Factor:
8.5


Nintendo Wii Explained Score:
8
Game Summary:
Need for Speed Nitro delivers a number of high speed street racing events across five of the world's great cities, with the option of driving 50 customisable commercial, performance and super cars.

Race events include circuit races, drag races, eliminator events, speed camera challenges and drift challenges, and with a selection of control schemes that really do shine, racing game fans are in for a high octane racing experience from start to finish.
What I Loved About This Game
The first positive thing to say about Need for Speed Nitro, is that the series has gone back to its roots, delivering a great arcade street racing experience that focuses purely on the racing.
Previous versions of the Need for Speed series on the Wii have suffered from poor story lines that detracted from the overall racing experience, in some instances serving to remind you that you weren't even supposed to be a real racing hero. Nitro has done away with the back stories, and the aim of the game here is to race your way through five scenic cities and a bonus Grand Prix level.
A number of games released by Electronic Arts for the Wii this year have used a stylised animation presentation, which I think has captured the essence of the Wii experience very well. The animation style in these games conveys the fun, vibrant arcade gaming experience that the Wii stands for, and like the Wii, doesn't take itself too seriously.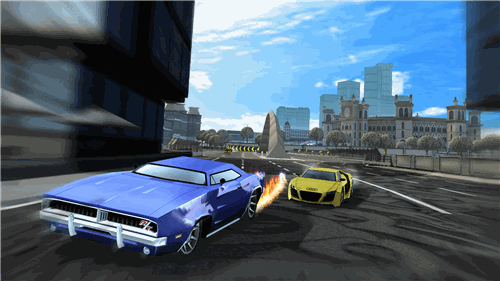 All of this applies to Need for Speed Nitro and it works exceptionally well. While car enthusiasts and motor racing purists may scoff at the lack of high definition detailing and the realistic driving experience that you'll find in some of the latest racing sim games, Nitro is a great arcade racing experience that never gets dull.
The game includes a number of gritty race event types across the cities of Rio de Janeiro, Cairo, Madrid, Singapore and Dubai, and include race circuits, eliminator events, drag races, time trials, drift challenges and speed challenges. The game also comes with 50 real world commercial, performance and super cars that you can fully customise with your own colour schemes, graffiti, art work and body parts.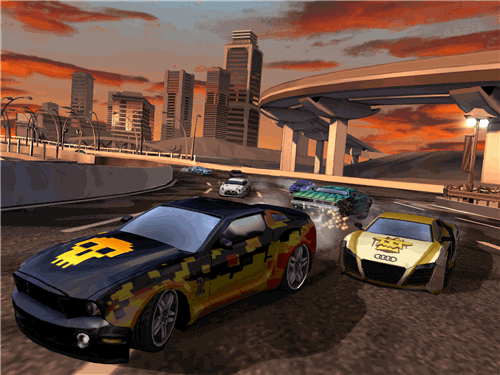 Gameplay in NfS Nitro is both exciting and challenging from the beginning. The control system works exceptionally well, and using the Wii remote controller, either in a Wii steering wheel attachment or turning it like a steering wheel, is responsive and exceptionally fun. As an arcade racer the laws of physics don't always apply, however, hitting walls and other cars in Nitro has a more realistic effect of slowing you down than it had in Need for Speed Undercover, where hitting walls propelled you past other cars and almost became an effective strategy for winning.
Nitro introduces two new gameplay elements in the wrench and police badge pick-ups, which are scattered around each race track. Picking up a wrench repairs all damage to your car, resulting in immediately noticeable improvements to your car's speed and handling.
A new "heat" meter shows you the level of police attention you're attracting during a race, and picking up a police badge lets you transfer that unwanted police attention onto one of your opponents.
These new pick-ups add an extra strategic dimension to the game. They're often placed side by side on the track, forcing you to choose which one to collect. Police cars in the game do their utmost to take you out, and do a much better job at this than in previous games, so choosing whether to repair your car and improve its performance, or send chasing police cars to take out another opponent often affects the outcome of a race.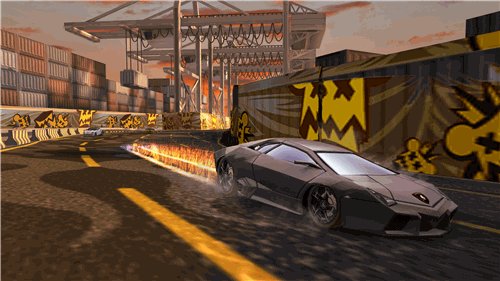 The main game mode in Need for Speed Nitro is the Career mode, which has three levels of progression: Bronze Cup in which you'll race commercial street cars, Silver Cup in which you'll race performance cars, and Gold Cup in which you'll race high performance super cars.
You'll start career mode in the Bronze Cup, in scenic Rio de Janeiro, with a 1970's Volkswagen Type 2 camper van. In addition to earning cash for completing race events, the game also uses an achievement system (in the form of stars) to unlock new race events and cities. After unlocking all five cities, you'll move from the Bronze Cup to the Silver Cup, unlocking more exotic and powerful cars as you progress.
Arcade and Multiplayer modes let you jump right into race events, either on your own or with a friend. Friends can also join races in your Career mode by connecting another Wii remote.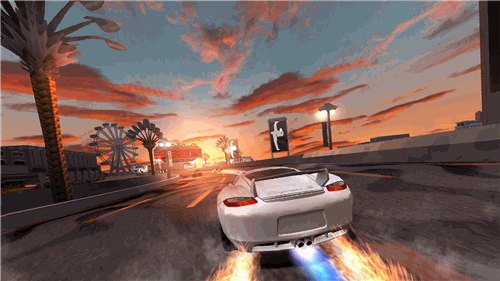 What I Didn't Love About This Game
The only key feature missing from the Need for Speed Nitro experience is an online multiplayer mode. The game feels perfectly suited to online competition with circuit, eliminator and drag racing events all providing potentially high octane competition for online petrol heads.
For those of you who love modifying your virtual wheels, Nitro may be a little on the disappointing side too. While the game has more than enough decorative paint and art work customisation tools to keep the most artistic of gamers busy for weeks at a time, Nitro doesn't have the same level of body part modifications (body kits, bumpers, exhausts and wheels) that were available in Undercover.


Overall Recommendation
For fans of the Need for Speed series, and for racing fans in general, Nitro is definitely worth your time. The action is high speed, and there are no story line distractions; just a highly refined arcade racing experience.
The animated presentation is cool and vibrant, and while it's not all Ferraris and Lamborghinis, the wide variety of cars on offer makes earning cash and rewards a satisfying experience.
If you're looking for a highly realistic racing game, then you may be better off looking at one of the high definition racing simulation games like Forza Motorsport or Gran Turismo 5 on one of the other console formats, but for anyone looking for good old fashioned racing fun, you can't go wrong with NfS Nitro.
Need for Speed Nitro is available from all good online stores including Amazon
and Amazon.co.uk
, with Free Super Saver Delivery. Amazon's customer service is excellent and their delivery service is pretty quick and extremely reliable!


Need for Speed Nitro and other great Wii games can all be found in the Game Reviews section.


Nintendo Wii Explained Home