Call of Duty: Modern Warfare Reflex Review
Call of Duty: Modern Warfare won game of the year when it was first released in 2007, and has topped the online multiplayer "most played" lists for the last two years. Modern Warfare has finally come to the Wii and it was well worth the wait.
With the same tension filled story, fantastic first person controls, gritty characters, and online multiplayer modes that made the original Modern Warfare such a smash hit, Wii action fans will be lining up to add this title to their shopping carts.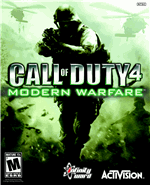 Video Game Summary
This Game is Perfect For:
Adults, First Person Shooter Fans, Action Fans, War Fans


Genre:
First Person Shooter


Number of Players:
1-2


Age Rating:
16+


Online:
Yes


FUN Factor:
9.5


Nintendo Wii Explained Score:
9

What does this Nintendo Wii reviews score mean? (opens in a new window)


Game Summary:
Call of Duty Modern Warfare Reflex follows the missions of US and British Special Forces soldiers as they race to stop nuclear terrorist attacks in Russia and the Middle East. With a tension filled story line, "hard as nails" characters and "wow" moments that will make your jaw drop, Modern Warfare Reflex cements its position as the premier First Person action game on the Wii.
What I Loved About This Game
The Call of Duty series is famous for its gritty, immersive World War 2 action, taking players back in time and reliving some of the most famous battles in military history. In Call of Duty 4: Modern Warfare, new wars are being fought, and as the title suggests, these take place on today's battlefields of the Middle East and Russia.
Call of Duty Modern Warfare has been released on the Wii a full two years after it was first released on the XBox 360, PS3 and PC, where it was an instant smash hit both in terms of sales and online game play, winning the prestigious Game of the Year award in 2007.
These intervening two years have been spent re-developing the game for the Wii console, ensuring that the fantastic gameplay and controls that were part of the original release made it onto the Wii.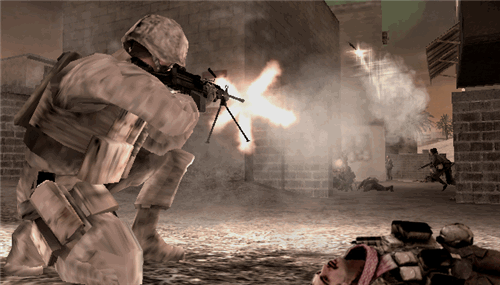 It would be naive to say that Wii owners don't get a little nervous when big hitting games are released onto the Wii, with its decreased graphics and processing power often resulting in cut down versions of these epic games. Although the graphics quality of Modern Warfare Reflex is not as sharp as the original version on the High Definition consoles, the rest of the game is fully intact, including every single stage from the original game and the fantastic online modes that have continued to make Modern Warfare one of the most played online games for the last two years.
Modern Warfare Reflex uses the same First Person control scheme that was so successful in The Conduit on the Wii, with the Nunchuck controller controlling directional movement, and the Wii remote controlling turning and aiming. The options screen also lets you customise the controls to suit your style of play, including an aim assist option and enabling your player to continue turning when the Wii remote is not pointing at the sensor bar.
First Person Shooters have notoriously struggled on consoles that do not have two joysticks, however, the control scheme in Modern Warfare Reflex is seamless and easy to use, although quickly snapping from one target to another by looking down your sights (using the Z button) is more difficult due to the free movement of the Wii remote in your other hand.
Call of Duty Modern Warfare has been highly praised for its tough, gritty characters, and you'll get to know them all in Reflex. Modern Warfare follows the efforts of Sergeant Paul Jackson of the US Recon Marines, and Captain Price and "Soap" MacTavish of the British SAS, as they track down a Middle Eastern dictator and a Russian ultra-nationalist across treacherous Middle Eastern and Russian landscapes.


The game is a first person shooter, and you'll play as both Sergeant Jackson and "Soap" MacTavish as they battle their way through their separate but related missions, with the game building suspense as it cuts across from one character's mission to the other just as the story reaches its climax.
The two converging stories of Sergeant Jackson and "Soap" MacTavish results in a pace of gameplay that changes constantly. "Soap" MacTavish's small SAS unit have infiltrated deep into Russian territory, with gameplay that requires slower, stealth tactics and involves small skirmishes with enemy troops as opposed to all out battle, although there are stages in the game in which you'll have to see off hordes of enemies. As Sergeant Jackson, you'll fight your way through dusty Middle Eastern suburbs in intense, epic battles involving large numbers of US Marines and enemy troops brandishing everything from AK47 rifles to RPG rockets.
The arsenal of weapons in Call of Duty Modern Warfare Reflex is astounding, and different weapons are available as pick ups across each stage of the game. Every weapon is distinct in both design and firing function, and you'll find everything from US M16 rifles to handguns, to RPGs and sniper rifles. There's a weapon to suit every occasion and this includes Javelin anti-armour missiles for taking out tanks and helicopters, to a C-130 gunship that you'll get to unleash on enemy ground forces.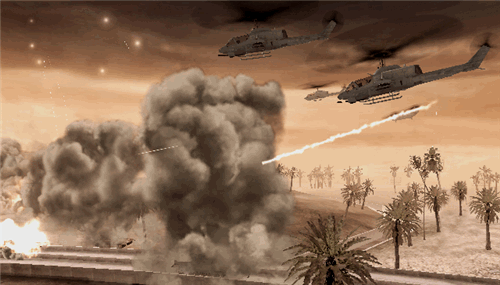 A feature that's new to the Wii's Reflex edition is an offline multiplayer mode called Squadmate mode. Squadmate lets a friend join you during any part of your single player campaign by turning on a Wii remote. This is especially helpful if you're struggling to complete a particular stage or simply wanting to play through the campaign with a friend. Your Squadmate appears on the screen as an extra targeting reticule, so there's no second character on screen and it doesn't affect the story in any way (other than helping you clear out enemies).
In addition to Squadmate mode, there's an Arcade mode that unlocks after completing the single player campaign. Arcade mode lets you play through any of the game's missions and gives you an arcade-type score based on how you perform on the mission.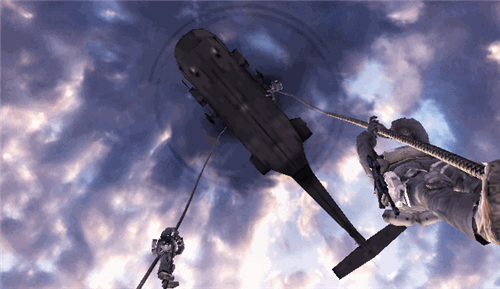 The biggest disappointment with the single player campaign, however, is that it's very short (only around seven hours), and the high quality story, characters and overall gameplay means you'll be extremely disappointed once it's over. The good news though is that there's still a whole world of online multiplayer to discover...
After completing the single player campaign mode, multiplayer is where you'll spend the rest of your life with Call of Duty Modern Warfare Reflex. With games like Team Deathmatch, in which you'll play on teams as either soldiers or terrorists with the team scoring the most kills winning, Sabotage in which you'll need to plant explosives on an enemy target, and Free for All where everyone plays for themselves, you'll spend hours upon hours hunting down other players.
Modern Warfare's online mode offers a unique levelling up system that rewards you for playing. For every kill you make and online match that you play in, you'll earn skill points. As you earn skill points you'll be promoted to higher military ranks that unlock weapons, skills, unique abilities, and new game modes, and striving for your next rank is part of what makes the online experience so addictive.
Online multiplayer's unique twist is the ability for players of sufficient rank to call in a choice of airstrikes over the opposition team, a helicopter attack or UAV radar that shows your team where opponents are hiding. These abilities are especially satisfying and offer a reward for participating online, as they're not available in the single player campaign. Online mode also offers Leaderboards so you can see who's best of the best, and a private lobby for setting up your own games and inviting friends.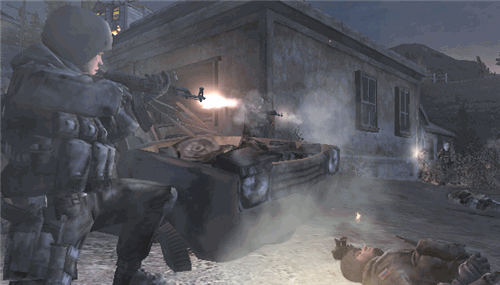 What I Didn't Love About This Game
The great story and intense combat makes the short single player campaign the only disappointment of what is an outstanding action game. Other than this, there really isn't too much to complain about!


Overall Recommendation
Call of Duty Modern Warfare Reflex is without a doubt the best shooter on the Wii.
With an engaging story, rugged characters with a wicked sense of humour, jaw dropping moments, and an online multiplayer mode that will keep you playing for months and months on end, there is only one recommendation to be made...Modern Warfare Reflex just has to be played!
Call of Duty Modern Warfare is available from all good online retailers including Amazon
, Amazon.co.uk
and Amazon Canada
, with Free Super Saver delivery, fast delivery times and great customer service.



Write Your Own Review for Call of Duty Modern Warfare Reflex
Have you played Call of Duty Modern Warfare Reflex? Share it!



Call of Duty: Modern Warfare Reflex and other great Wii games are all available in the Game Reviews section..


Nintendo Wii Explained Home