F1 2009 Review -
F1 Racing's Stunning Debut on the Wii
F1 2009 is without a doubt the finest racing game on the Wii. Ironically, however, the aspects that make this F1 racing game so great means that casual racing fans will need to put in some serious practice time with the game in order to be successful. That said though, the rewards for investing your time in learning how to race these super cars are hugely satisfying and makes it well worth the effort.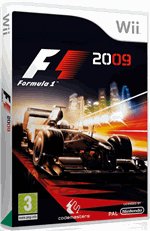 Video Game Summary
This Game is Perfect For:
Children, Teenagers, Racing Fans, Racing Video Game Fans


Genre:
Racing


Number of Players:
1-2


Age Rating:
3+


Online:
No


FUN Factor:
9


Nintendo Wii Explained Score:
9

What does this Nintendo Wii reviews score mean? (opens in a new window)


Game Summary:
F1 2009 is an outstanding simulation of the world's most popular motor sport series. With all the Formula 1 racing teams, drivers and championship circuits from the 2009 season included in the game, F1 racing fans are in for a thrilling ride as you speed around the infamously challenging circuits, to the sounds of the perfectly tuned racing engines in your ears.
What I Loved About This Game
F1 2009 is quite easily the best racing game yet for the Wii. The game's ultra smooth frame rate and the sheer visceral effect of the world's most finely tuned engines whining in your ears makes it like no other experience on the Wii console.
For those of you starting to reach for your wallets though, beware...F1 2009 feels very much like a game designed for the serious Formula 1 racing enthusiast, and casual racing fans or those with no real knowledge of the F1 racing circus should note that there is a steep learning curve involved.
For those not overly familiar with Formula 1 (or F1 as the series is known), F1 racing is made up of 10 teams, with two drivers in each team. It is generally acknowledged as one of the fastest motor sports in the world with cars reaching up to 225 miles per hour, and includes some of the world's most iconic car brands including Ferrari, McClaren, BMW and Mercedes Benz.
F1 2009 includes all the official teams and race circuits from the 2009 series, including the new Yas Marina circuit in Dubai, the Valencia circuit which hosted this year's European Grand Prix, the incredibly tough but scenic Monaco track, and the Singapore night race.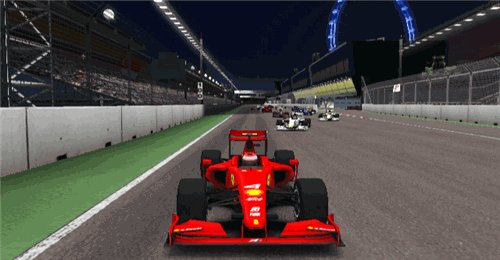 Many critics have questioned the decision to release an F1 racing game on the Wii, as opposed to the high definition consoles, and while the game's graphics are not of the High Def quality that all racing fans would love, the rest of the game is a triumph.
The game's frame rate is superb and doesn't miss a beat as you accelerate out of tight hairpin bends and along the long flowing straights. The low ride height of the F1 racing cars gives an exhilarating close up view of the track speeding by using the in-cockpit camera or nose camera views, and it is a hugely satisfying experience to test your car's driving limits as you power your way around each circuit.
Car handling is highly responsive with subtle but noticeable differences in the performance of cars between each team. The game includes a vast array of tuning options that will delight the most passionate of hobby car mechanics, and changes to any part of your car will result in an immediately noticeable increase or decrease in performance once you jump back onto the track. Tuning options include tyre compounds, steering sensitivity, acceleration levels, car height, suspension stiffness, gearbox ratios, and even the camber of the wheels.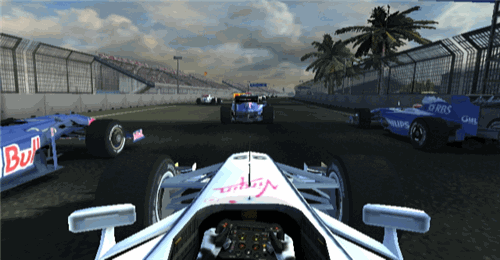 If all of this sounds particularly technical, then it is, and the precise handling of the F1 racing cars, the knowledge you'll need of every twist and turn of the circuit to race at your fastest, and the extremely technical tuning options mentioned above will require a major investment of practice time from anyone who is not a serious racing fan.
The game, however, does offer newcomers and casual fans the option of enabling a number of driving aids and turning off car damage, and wear and tear that are part and parcel of real Formula 1, thereby making the game a little more accessible. Turning off car damage and enabling driving aids, however, still makes for a challenging driving experience.
Car handling is sensitive and highly responsive regardless of which control scheme you choose, whether it's using the Wii remote, either in a wheel attachment or alone, using the Wii Nunchuck controller, or plugging in a Classic controller.
Using the Wii remote to control your car works exceptionally well, and adds to the F1 simulation experience. Real Formula 1 racing cars have most of their controls on the steering wheel, and controlling F1 2009 completely from your steering wheel helps to immerse you further in the game.


F1 2009 has all the major game modes you would expect to find in a great sports title. Quick Start mode lets you jump right onto the starting grid of any of the 18 Formula 1 races, selecting your favourite driver, circuit, number of laps, pit stop strategy, and driving aids, while Race Weekend is an extended version of Quick Start, allowing you to experience all of the practice and qualifying sessions that make up a real Formula 1 Grand Prix weekend. These practice and qualifying sessions let you explore the circuit and battle against the clock for pole position, as opposed to the random starting grid placement that is assigned in the Quick Start mode.
Championship mode lets you play through an entire F1 racing championship season, including the practice and qualifying sessions for each of the 18 race events on the F1 calendar. Championship mode lets you select your favourite driver for the season, after which you'll begin with the season opening Australian Grand Prix in Melbourne.
As mentioned, practice sessions let you learn and explore the race circuit, with the option of leaving the race track and going into the garage to tune your car's setup. Your car will need a unique setup for each track, and although the game provides you with a default setup option for the track you're driving on, natural born mechanics do have the option of changing just about every technical aspect of their car short of physically rebuilding the engine themselves. Factors affecting car setup include the track's layout, speed, bumpiness, and the weather on the day.
Weather plays a major role in real racing, and the impact is just as real in F1 2009. Turning on the Weather option brings about, what appears to be, realistic weather patterns for each circuit. This might mean sunshine in a morning practice session and torrential rain in the afternoon session, requiring a change in car setup, and a most definite change in tyre selection and driving strategy.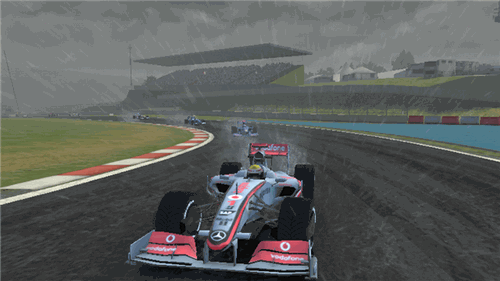 Tyre selection is critical to success in both real F1 racing and F1 2009, and some of the most notable changes in the game's driving experience happen based on the tyres on your car. Slick tyres in dry weather and grooved wet weather tyres in the rain are critical to performance, but hard and soft compound tyres add to the effect.
Drivers have to use both hard and soft compound tyres during a race, and you'll need to decide which tyre type you'll use at the start of each race. Hard tyres need to warm up before your car has sufficient grip for aggressive, high speed driving, and you'll find yourself all over the track if you drive too aggressively before the tyres have had a chance to warm up. In contrast, soft tyres give you instant grip and performance. So which strategy will you use; instant performance at the start of the race to build a lead for a move to slower tyres, or a slow start and a fast finish?
The final single player modes are Career mode and Challenge mode. Career Mode is similar to Championship mode, but instead of racing through a single Championship season with an existing driver, you'll create your own driver and race over three Championship seasons. Challenge mode offers players a number of arcade-type racing events like overtaking challenges, gate events, and time trials. Although no substitute for driving the actual circuits, playing through Challenge mode is a good way to learn how to handle your F1 racing car and to perform all the different manoeuvres you'll need to use to win races.
Multiplayer mode offers players the chance to race head to head against family and friends offline, with the option of a single competitive race or an entire season. Multiplayer runs in split screen mode, and offers a handicap style system to make races more competitive between players with different skill levels. Unfortunately, there is no online multiplayer mode but this doesn't stop the offline mode from being fun and offering a different challenge to the usual computer AI.


What I Didn't Love About This Game
The missing piece of the F1 2009 puzzle is in-game commentary. While the racing in F1 2009 is a great experience, what is really missing is a sense of atmosphere in the game; something that conveys to players what it means to be part of the Formula 1 racing circus. While the on-track racing experience is highly satisfying, there is no sense that you're part of a massive, globally televised event.
A great commentary team in the game would have served as the glue to bring all of the game's great individual parts together. A fly-by of the track before each race or race weekend with the commentary team talking through the circuit's layout and applicable racing strategies, followed by ongoing commentary during the different racing sessions, talking you through upcoming corners, speeds and gears, information on the technical aspects of the car you're driving, plus general information on the history of each circuit would have made the game far more accessible for new and casual racing fans, while conveying the atmosphere of what it must be like to be a part of a complete F1 racing event.
Finally, with the Wii having proved itself as an online gaming console, and the fairly standard online multiplayer modes that now come standard with most car racing video games, online multiplayer would be a welcome game mode in next year's title. F1 racing 2009 comes with a number of game modes already, and the game is a stunning debut, but an online mode in future releases would help take the game to the next level.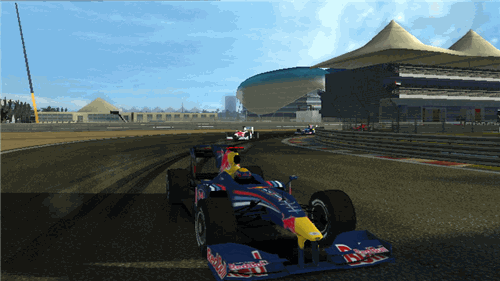 Overall Recommendation
F1 2009 is without a doubt a triumph. Despite the lack of high definition graphics, the detailed track layouts, the sense of speed that's provided by the game's smooth frame rate, the beautifully tuned engine sounds, and the highly responsive motion controls make this a winning debut on the Wii.
For any serious F1 racing fan, or any other racing fan for that matter, there's only one recommendation, and that is to invest in F1 2009.
For casual racing fans, or fans who love more arcade style racing games, F1 racing offers a hugely rewarding experience if you're prepared to go through a steep learning curve first. You'll need to spend time practicing your driving skills around the various tracks and play with your car's setup options if you want to have any chance of winning races. The rewards of doing this though are really and truly worth it, with a high octane, visceral experience on offer on every lap.
F1 2009 is available from all good online retailers including Play.com and Amazon.co.uk
, with Free Super Saver delivery, fast delivery times and great customer service.


F1 Racing 2009 and other great Wii games are all available in the Game Reviews section..


Nintendo Wii Explained Home