FIFA Soccer 10 Review
Like the Champions League or F.A. Cup Final, the annual release of FIFA soccer by EA Sports is now an eagerly anticipated event for most football fans.
The FIFA football series has improved remarkably over the last two years, like Real Madrid after a summer spending spree. Like Real Madrid, the game has designs on being the best sports video game on the planet, so let's see how far FIFA 10 goes in fulfilling this ambition.


Video Game Summary


This Game is Perfect For:
Children, Teenagers, Football fans, Sports video game fans


Genre:
Sports


Number of Players:
2


Age Rating:
3+


Online:
Yes


FUN Factor:
8


Nintendo Wii Explained Score:
7.5

What does this Nintendo Wii reviews score mean? (opens in a new window)


Game Summary:
While FIFA Soccer 10 on the Xbox 360, PS3 and PC is designed to simulate real-world football, with lifelike player models, tons of options for creating your own team strategies, and a deep Career mode, FIFA 10 on the Wii is an action-packed and fast paced arcade version of the beautiful game.

FIFA 10 Wii is the perfect game for anyone looking for a quick pick up and play soccer game that's full of action from the start but doesn't fiddle about with the technical side of the sport.
What I Loved About This Game
My first note to soccer (or football) fans is that FIFA Soccer 10 provides a completely different sports and gaming experience on the Wii compared to versions on the other consoles.
FIFA for the Xbox 360, PS3 and PC is a deep soccer simulation that strives to recreate all the technical, strategic and tactical nuances of the game. FIFA on the Wii, however, is a pure arcade soccer experience that's fast-paced and full of goal scoring action, but there's very little in the game that simulates real-world football.
While the other console versions of the game provide a lifelike representation of players and stadiums, the Wii version has a comic book style animation that's similar to the character models in EA Sports Grand Slam Tennis. This isn't a criticism by any means as the presentation compliments the game's fast, arcade-style gameplay.
FIFA Wii has 4 gameplay modes. Hit the Pitch is a quickplay mode that lets you jump right into a game against the computer or a friend, and it's this mode that, ironically, has the most gameplay options. Hit the Pitch lets you select your teams, kits, stadium, and match duration, and is the only game mode that allows you to change the length of your matches. In the other game modes, match duration is pre-set to two minutes per half.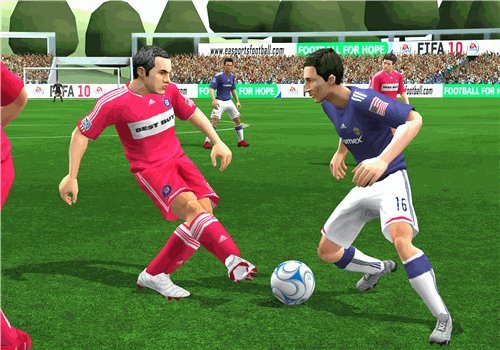 The second mode is Tournament mode, which offers you the opportunity to play through a complete League Season from a wide choice of leagues from around the world, including the English Premier and Coca-Cola Leagues, Spanish Leagues, Italian Serie A and Serie B, the Brazilian championship, the Australian A-League, American MLS, and many more.
FIFA has always held a decisive edge over the Pro Evolution Soccer series with its vast number of licensed leagues, teams, players and competitions, and they're all included front and centre in the Wii version. Add to these licences, recreations of some of the world's most iconic stadiums (including Real Madrid's Santiago Bernabeu for the first time) and you have the entire professional football world at your fingertips.
The licences, however, is where any resemblance to real football ends in FIFA Soccer 10 on the Wii (and I don't mean this in a bad way)...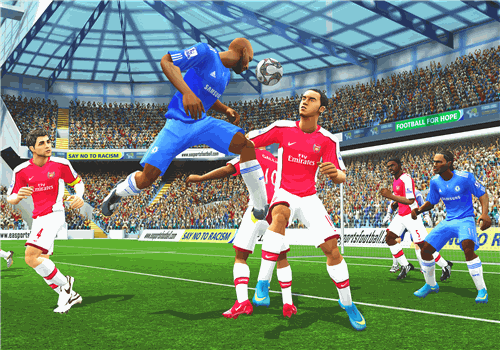 Action on the pitch is lightening fast, and there's no real tactical or strategic level to the game. The game only offers a few basic team formations to choose from with no additional options to tweak player positions, assign individual player instructions or set team strategies such as all out attack, defend, or counter attack. You've got 11 players in a basic formation and the rest of the game is about getting the ball, getting into shooting positions and letting fly at goal.
The aim of the game in FIFA Soccer 10 on the Wii really is to shoot on sight. Being something of a soccer fanatic, I started off trying to create perfect goal-scoring opportunities before unleashing shots at goal, only to end up with very few of these every match. Meanwhile the computer was firing away from all corners of the field, peppering my goal every time they got the ball. It's not pretty football for the purists but it is adrenaline-pumpingly fun.
FIFA Soccer 10 on the Wii uses the Wii remote controller to shoot, take free kicks and penalties, and to defend free kicks and penalties. When taking a free kick, you'll need to shake your Wii remote at just the right moment to get a good shot on goal. When you're defending a free kick, you'll need to shake your Wii remote at just the right moment for your goalie to save the ball. It all sounds a great way to balance the pressures of scoring goals and saving shots, except that it's just as hard to save a free kick from the halfway line as it is from just outside the penalty area.
When defending a free kick, the ball turns green for a very short period to indicate when you need to shake your Wii remote, except that the time you have to shake your controller is the same regardless of how far away from goal the free kick is being taken. It seems that the ball should stay green for longer, the further away the free kick is from goal as any professional goalkeeper will save long range free kicks far more easily than close range ones. It's really frustrating conceding goals from the halfway line when you know this wouldn't really happen in a football match.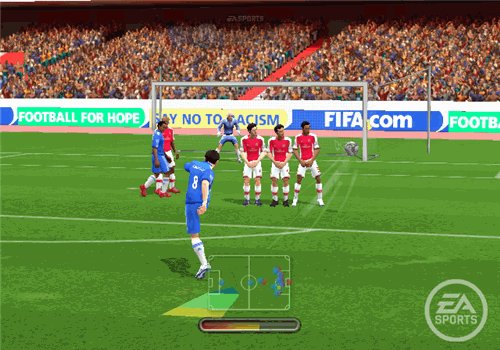 Goalmouth action has been given an exciting touch this year with the Momentum Bar and Wow Moments. As you pass the ball around and create pressure on the opposition's goal, your Momentum Bar fills up. When it's full, your players will take harder and more accurate shots, and the action changes to slow motion as you fire a shot away on goal. It's a system that works really well, and you'll sit on the edge of your seat as you watch and wait to see whether the ball flies into the net or if the goalie makes a great save. It really does build up the tension in the game brilliantly.
Commentary in the game is also superb with Clive Tyldesley and Andy Gray doing the honours. While Andy Gray's commentary is as insightful and interesting in the game as it is during live televised football broadcasts, Clive Tyldesley is the real star of the show. Clive's highly excitable commentary style is a perfect accompaniment to the frantic, end-to-end action in the game, and fuels the excitement taking place on the pitch. If ever there was a perfectly casted voice actor in a video game, Clive Tyldesley is it.
The other single player mode in the game is Bid for Glory, a Football Manager mode in the loose sense of the term. In Bid for Glory you'll get to choose which club you want to manage and you'll be given a choice of objectives to complete at the beginning of every match. Each objective has a points value attached, with more difficult objectives being worth more points. Achieving your selected objective during the match adds this points value to your team's overall ability score for the next match, but not achieving your objective, decreases your team's overall ability score by the same amount.
These skills boosts add a clever twist to the game. Again, the objectives presented would be crazy in a pure football simulation game (some objectives are to score a hat-trick with a specified player, or to score three unanswered goals) but they fit perfectly into the arcade experience.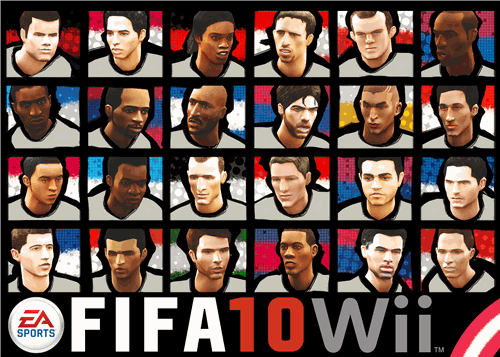 The final game mode is the online mode, where you can play against opponents from around the world. This is where the magic of the FIFA Soccer Wii arcade experience shines, with frantic, end-to-end matches that are packed with excitement.
The online mode in FIFA Soccer 10 fulfils every football fan's primal desire for tense goal-mouth action and bags of goals. Games are end-to-end affairs with human players trying to inject some tactical skill into the game. The commentary team are also present during online games, with Clive Tyldesley extending his energetic commentary style to these frenetic online duels.
I have to say that I had to drag myself away from the online matches in order to return to the offline modes.


What I Didn't Love About This Game
One of the oddities with FIFA Soccer 10 on the Wii is the inability to change the duration of matches in the Season and Bid for Glory modes, with matches in both modes fixed at two minutes per half. Four minute matches don't give you much room for error if you concede a few early goals, and matches really do feel like a mad dash.
The free kick mechanic was my other frustration in the game. While the ability to hit the perfect shot is made more difficult the further away from goal you are when taking a free kick, the same doesn't apply to saving free kicks. The overall mechanic of shaking your Wii remote to take or save free kicks is a good idea, it just needed a little refining.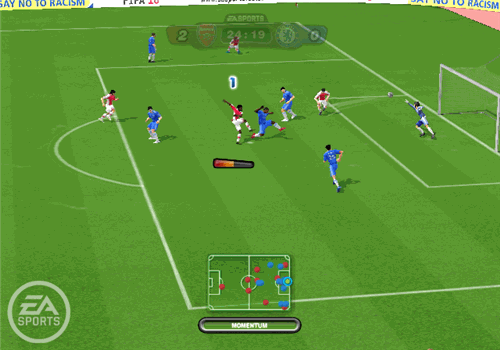 Overall Recommendation
For soccer fans and general sports video game fans looking for a quick pick up and play, arcade style game that's exciting and action-packed, then FIFA Soccer 10 on the Wii is a worthy title. Gameplay is lightening fast, there's end-to-end football, and the commentary is some of the best in any sports game.
Online play is a shining star, and is where a lot of players will spend their time on the Wii version of FIFA 10. Although online games did suffer from some minor lag during peak evening periods, getting into games is ultra simple and lets you move quickly from one action fest to the next.
For the serious soccer fan who is also fortunate enough to own a XBox 360, PS3 or PC, my recommendation would be to opt for FIFA Soccer 10 on one of these consoles. With its commitment to the simulation of real world football tactics, lifelike player and stadium models, and deep Career and Manager modes, FIFA Soccer 10 on the other consoles will possibly be a more satisfying experience for the hardcore fan.
FIFA Soccer 10 is now available on all consoles from Amazon
, Amazon.co.uk
in the UK, and Amazon Canada
, with Free Super Saver Delivery and pretty quick delivery times.


FIFA Soccer 10 and other great Wii games are all available in the Game Reviews section.


Nintendo Wii Explained Home