The Bigs 2 Review
A Home Run for Arcade Baseball
The Bigs 2 is a vibrant, action-packed baseball video game that combines all the fun and non-stop excitement of an arcade game, with the sights, sounds, and thrills of a real ball game.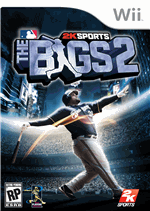 Video Game Summary
This Game is Perfect For:
Children, Teenagers, Adults, Baseball Fans, Sports Video Game Fans


Genre:
Sports


Number of Players:
1-2


Age Rating:
3+


Online:
Yes


FUN Factor:
9


Nintendo Wii Explained Score:
8.5

What does this Nintendo Wii reviews score mean? (opens in a new window)


Game Summary:
The Bigs 2 brings fast paced, arcade-style baseball to the Wii with larger than life characters, superstar skills and on-field plays. Baseball purists may scream in horror but for everyone else, the Bigs 2 is a hugely fun, colourful, exciting baseball experience for the Wii console.

What I Loved About This Game
I love baseball video games, so I was more than a little excited to get my hands on The Bigs 2, and more than a little curious as to how the arcade style format of the game would play out.
Well, I'm glad to say that I loved it!
The game has all the real life teams, players, uniforms, and stadiums that you'd expect to find in a baseball sim, but brings a larger than life presentation to America's favourite pastime, with bright visuals, exaggerated player attributes, spectacular catches, massive strike-outs, and huge home runs hits. Points are awarded for strikes, catches, base hits and home runs, with power-ups being activated on reaching specific points thresholds.


Throwing strikes and hitting base hits awards you with a turbo boost that you can activate for a single pitch. Activating the turbo boost when pitching makes your pitch harder to hit, and activating turbo when batting gives you extra hitting power. These turbo boosts are perfect for throwing a third strike at a swinging batter or swinging for the fences with a couple of men on base.
On reaching your first power up points threshold, you'll receive the Big Heat power up when pitching and the Big Slam power up when batting. Activating the Big Heat power up lets you throw a series of unhittable pitches to a single batter. The screen enters an almost black and white mode, as you send down some ferocious pitches, with fire trails following your pitch into the catcher's mitt.


Activating the Big Slam power up when batting gives you ultimate hitting power for your guy at bat. The screen again turns dark as you lock onto the pitcher, and anything short of a perfect pitch and a poorly timed swing will sail out of the park with a vapour trail behind it. It's fun stuff!
For patient players willing to forego the instant gratification of the Big Heat and Big Slam power ups, continuing to the next points threshold will give you the Grand Slam power up. Activating Grand Slam gives you four swings in rapid succession. Hitting each pitch puts a man on base, and hitting the final pitch will earn you a Grand Slam home run. There's probably no better feeling in The Bigs 2 than executing the Grand Slam power up.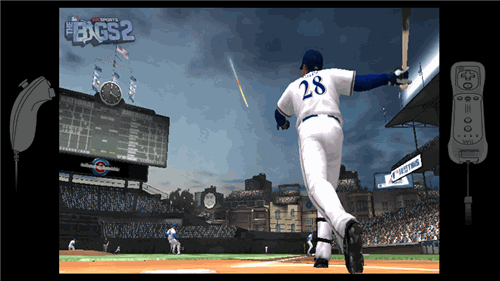 It's not all about power up hitting and throwing though, and you'll just as easily lose your ability to throw the heat or swing for the fences if your opponent gets the better of you. Each of your pitches has a "health" meter and every time you give up a hit, you'll lose a little bit of "health" for the pitch that was hit. When the "health" meter is empty you'll lose that pitch permanently, and you'll either need to substitute your pitcher, or pitch with one less weapon in your arsenal.
Every batter has a "hot" zone, called the wheelhouse, with better batters having bigger wheelhouse zones. If you give up a strike and the pitch passes through your wheelhouse, your batter's wheelhouse decreases in size making it harder to hit the ball during that at bat.
These penalty and reward systems work extremely well in The Bigs 2, adding a really sharp edge to the competition between bat and ball!
The game has three main game modes. These are Play Ball, Season, and Become a Legend. There's also a series of mini-games that you can play, most of which are also part of the Become a Legend mode.
Play Ball is a quick play mode that lets you jump right into a game, choosing your teams, stadium and difficulty level. It's perfect for playing with friends or for a quick game to try out different teams.


Season mode lets you play through a single regular season and playoffs, allowing you to select a reduced number of regular season games for those who don't have the stamina to play all 162 matches. Season mode includes all MLB teams, player rosters, and exaggerated player attributes and allows you to trade players between teams and shuffle line ups.
Become a Legend mode is the game's deepest mode and offers up a career mode with a fun back story. Become a Legend revolves around the story of a pro player making a comeback from a career threatening injury. Your long journey to the Baseball Hall of Fame begins in Mexico with a farm stall team, and you'll need to pass several challenges before the MLB pro teams come calling again. What I like with this career mode is the option of choosing your favourite MLB team to play for, as opposed to some sports games which have a few smaller teams in the league offer you a contract.
Become a Legend offers a deep player customisation tool, with a host of customisable options that include physical features, personalised uniforms and equipment, fielding positions, customised batting stances, batter walk ups, home run celebrations, and even your very own tattoos.


As with most sports games, you'll start your career with low attribute stats and build these up by completing objectives. You'll have a number of objectives to achieve in each game in order to progress (one of which usually includes winning the game), and you'll earn additional attributes by completing a series of mini-games that serve as training sessions.
Unlike the other game modes, none of your team mates have special attributes in the Become a Legend mode, and you'll need to add special attributes to your team by stealing players from opposing teams in specially designated matches. Instead of executing simple trades, you'll need to steal the players you want by winning baseball games!
The Wii version of The Bigs 2 uses the Wii's motion controls, and you'll need to "pitch" with the Wii remote to throw pitches and swing with your remote when at bat. Fielding in The Bigs 2 also needs more of your input than traditional baseball video games, and you'll need to complete a series of mini games in order to pull off spectacular catches, whether they're line drives in the in-field, insane wall catches to deny a home run, or catches on the roof of the dugout.
Commentary is the final delight in The Bigs 2, with fluid in-game commentary that always feels on cue, and adds to the game's charm with one-liners that will make you giggle. I'm a huge believer that commentary can take a sports game to the next level or drag it down a notch, and it takes it to the next level here in The Bigs.


What I Didn't Love About This Game
I like replays. I like taking a slow motion look to appreciate the things I have done well and to cringe at the things that have crashed and burned.
I know that the game aims to be a fast-paced arcade style sports game, but not having replays just takes something away from the overall sports experience for me. For those who don't like replays and who want to speed up the game, offer an option to turn replays off in the Options screen; but for the rest of us, the lack of replays is about the only thing I didn't like about the game.


Overall Recommendation
The Bigs 2 is great fun, and is highly recommended for any baseball fan (except the purists who may cringe at the arcade style gameplay and power ups) and to sports fan in general.
Gameplay is fast and vibrant, and the game modes are deep enough to keep fans of all ages entertained for months.
For anyone looking for a fun sports game to play alone or with friends, you can't go wrong with The Bigs 2.
The Bigs 2 is available from all good online retailers including Amazon
, Amazon.co.uk
and Amazon Canada
, with Free Super Saver delivery, fast delivery times and great customer service.


The Bigs 2 and other great Wii games are all available in the Game Reviews section


You can find other great Wii sports games in the Sports Games section


Nintendo Wii Explained Home