Wii Fitness Games -
Exercise Just Became a Whole Lot More Fun
Since its launch in 2006, the Nintendo Wii has become the perfect platform for Wii fitness games.
The fun, interactive experience that has made the Wii console so popular with families around the world, has now made it cheap and easy for people to exercise in their own homes, and in their own time.



While fitness tapes and DVDs have been around for years already, they didn't ever have the flexibility or variety to cater to everyone's personal needs. The only thing these tapes and DVDs let you do was turn on the telly, stick in the tape, and do the same workout time after time.
It didn't matter whether you were just starting out on an exercise routine or were a seasoned pro, all you could do was sweat through the exact same workout on the tape every time.
The Wii console, though, now lets gamers interact with fitness video games in a way that video machines and DVD players could never dream of doing.
By letting users enter personal information and monitoring every movement through the Wii remote and the Wii Balance Board, almost all Wii fitness games create highly personalised exercise programs for every user.
And just like the fitness DVDs of the 80s and 90s, celebrity trainers are now starting to put their names to these games too; like Jillian Michaels with the Jillian Michaels Fitness Ultimatum games.


Jillian Michaels Fitness Ultimatum
Whether it's Mom looking to tone up and lose a few inches, Dad looking to improve his fitness, or the kids looking for some fun physical activity when they're not allowed out the house, all of these fitness video games have personal exercise plans for every member of your family.
Some of these games, like Wii Fit, use mini games to make the workouts more fun. Some of the Balance mini-games in Wii Fit include soccer heading, snowboarding and tight rope walking.
Other games, like My Fitness Coach, have in-game characters that talk to you and give encouragement during your workout, which creates a highly personal experience.



Maya is your very own Personal Trainer in My Fitness Coach
Whichever format they use to make the workouts challenging and entertaining at the same time, almost all of these games have a huge range of different exercises on the disc. These exercises usually include stretching, cardio, upper body strength, lower body strength, yoga, and balancing exercises.
If you're looking for a more specific workout routine, games like Yoga for Wii specialise in one type of exercise program. Even though these specific fitness games give the real fanatics the chance to do their favourite exercises, the wide range of exercises on the disc and the interactive features of the Wii help create different and challenging workouts every time.
Because the Wii lets users choose from a range of in-game options and interact with the game during workouts, it's now possible to create a different experience with every workout by choosing different on-screen environments, music and instructors.
My Fitness Coach lets you choose from a variety of workouts every time you login, including cardio, strength, yoga, abdominals and stretching. After selecting your workout, you'll get to choose your location and music for the workout too.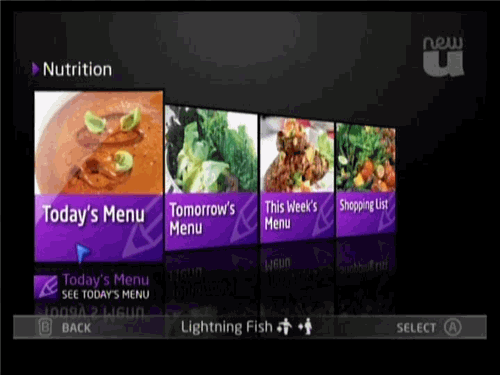 NewU Personal Trainer Healthy Menus
While the first batch of fitness games focused on exercise, the second wave of Wii Fitness games is bringing healthy eating to the table.
NewU Personal Trainer combines both exercise programs, specially designed by personal trainers from the Fitness First gym chain, and a full healthy menus module from the team at "You Are What you Eat".
By providing highly personalised, easy to follow exercise and eating programs, the Wii console is quickly becoming a complete lifestyle and entertainment system, instead of just being a video game system.
Perhaps the most important thing though, is that these fitness games are fairly cheap, and are easy for the whole family to follow at home, without having to pay for expensive gym memberships.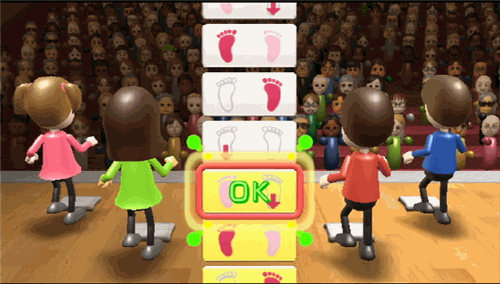 Stepping it up with the Wii Fit
With so many different fitness games available though, it's important to choose the one that's right for you, your exercise goals, and the activities you like doing on a regular basis.
In this Wii Fitness Games section, I've reviewed the best fitness video games currently available on the Wii. Like my Game Reviews section, I only review the highest rated and most critically acclaimed games, so you don't have to spend time reading reviews for poor quality games.
Check out the fitness games listed below, and click on any of them to read the full review. Then decide on the best one for you and your family...


My Fitness Coach (Rating 9/10)
My Fitness Coach is great for people who enjoy a structured workout program with a personal trainer. This game does not require the Wii Balance Board.
Wii Fit (Rating 8.5/10)
Wii Fit is great for people looking for a fun and unique exercise experience, as the game has more of a "video game" feel rather than "serious exercise" feel to it. This game comes packaged with the Wii Balance Board.
Leave Wii Fitness and go to Nintendo Wii Explained Home