Wii Accessories Everywhere,
But Which Ones Are Right for You?
One of the coolest things about the Nintendo Wii console is the huge range of Wii accessories available.
You'll find all sorts of crazy accessories from guns to golf clubs, and light sabres to exercise boards.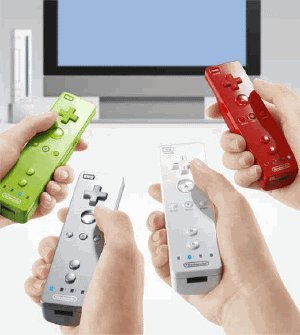 So where do you even begin to choose the best accessories?
Well, all the different accessories for the Wii are listed in this section, and they range from the sublime to the ridiculous.
I always think that accessories for the Wii fall into one of the following categories:
Critical Accessories that are essential for playing games and using your Wii console to its max. These include the Wii mote controller, the nunchuck controller and the Wii LAN Adapter for taking your Wii online.
Brilliant Accessories are the accessories you could live without – but would you want to? Some of the more brilliant accessories are the Wii MotionPlus adapter, tennis racquets, golf clubs, Star Wars light sabre swords, and the Wii Balance Board.
Just Plain Cool Accessories like guns, guitars, video game chairs, wireless sensor bars, and more. These accessories are for the more adventurous!
Learn about all these cool and crazy accessories for the Wii by choosing from the list of short articles below. This will give you an idea of just how much there is to the Wii console...


Nintendo Wii Explained Home